Cubicall launches two new phone booth models to address the varying privacy needs of offices, a meeting room and standing solo phone booth.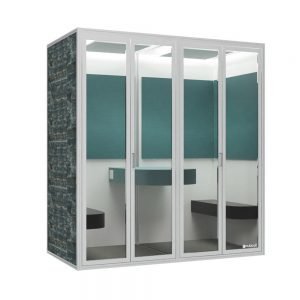 LOS ANGELES, Calif. — Cubicall, the maker of modern phone booths, today announced two additional phone booth models to their product offering. The Cubicall4 Meeting Room will fit up to four seated occupants and the Cubicall1 Solo will fit one standing occupant. Both will join the Original Cubicall2 that fits up to two seated persons. Cubicall phone booths address the shortcomings of modern offices by providing privacy and increasing employee productivity and morale.
"After successful installations of the original phone booth, our customers were looking for additional solutions to meet their needs," says Anthony Pucci, co-founder and CEO of Cubicall, "the Cubicall1 is meant for shorter use, has a smaller footprint, and enjoys the health benefits of a standing desk, while the Cubicall4 provides a meeting space for teams to collaborate under privacy and renewed focus."
Open-office floor plans represent 80% of all offices around the world. While it has its proven benefits (increased collaboration and reduced direct costs for employers), research into the growing trend has revealed its shortcomings, namely employees are less productive, unhappy with their work environment, and are disengaged – costing employers up to $550B a year.
Cubicall brings privacy and productivity back to modern offices through a selection of customizable phone booths. Cubicall phone booths deliver visual and acoustical privacy, offering employees a space to focus, hold private communications, or to simply break from the distractions of open offices. Employers can expect increased employee morale, productivity and efficiency.
"We began this company as a solution to fixing the problem with our own office. So, we've lived it and understand the paint points of modern office design along with the benefits having a privacy space within the office," explains Pucci. "Responding to our current clients, we are thrilled to offer more solutions with these two additional phone booth models to meet the varied needs of current and future customers."
Cubicall's simple, yet, efficient modular design aligns with today's modern design trends. The ability to customize the booths ensure the booths will complement the interior decor of any environment or communicate an organization's marketing message. Cubicall phone booths ship flat, can be easily assembled and are Made in the USA.
About Cubicall
Cubicall produces efficient and customizable privacy solutions. Cubicall phone booths offer visual, acoustical, territorial and informational privacy through modern design. The phone booths ship flat, are easily assembled/disassembled, and are fully customizable. The bi-fold door allows Cubicall to fit into areas where every inch of space is critical and helps more businesses comply with International Building Codes. The company was founded by two brothers who came up with the idea when working in an open office space. The phone booths have been featured on Fox Business Channel, The New York Times, Interior Design, Fast Company, Inc. and was called the "an efficient privacy solution to open-plan distractions" by Forbes. Cubicall is designed, engineered and manufactured in the USA and is based in Los Angeles, California.