Negative Pressure
5-stage negative pressure HEPA filtration with UVC disinfection
Easy Installation
Booths ship flat, easily assemble with a few tools, and move with the changes.
Customization
Choose colors, finishes and features to match facility requirements.
Made in the USA
Designed and manufactured with quality and sustainability in mind.
isolate exams & aerosol generating procedures
Cubical Exam Pods are designed to isolate procedures and exams. The space-saving and efficient design allows the Exam Pods to fit within facilities so frontline workers can focus on what they do best.
Save time by cleaning and disinfecting smaller areas
Ensure safety and compliance by isolating patients and aerosol generating procedures
With the added negative pressure HEPA filtration system, most viruses and pathogens released are filtered and/or inactivated— safely allowing filtered air to be exhausted outside of the pod within a larger room.  And if required, the filtration unit can be integrated into existing HVAC systems.
negative pressure HEPA filtration
Cubicall Exam Pods ship standard with negative pressure HEPA filtration units that well exceed twelve (12) air changes per hour (ACH), the minimum recommendation by the CDC. The quiet (62dB) 350w brushless motor unit includes UV germicidal irradiation.
5-stage filter process
Washable foam pre-filter
Deep-pleated Moisture Barrier
H13 99.95% Efficient HEPA Filter
7lb Carbon Filter
UVC Germicidal Light
FAQ
Available in a variety of finishes for easy cleaning/disinfecting, including antimicrobial and chemical-resistant surfaces
Automatic LED lights standard; optional after-use UV air & surface disinfection lamp
Negative pressure HEPA & UVC air filtration with variable speeds— offering minimum 15 ACH (air changes per hour) as recommended by CDC
Modular design for easy assembly, moving & storing
Industry-only, patent-pending bifold door with acoustically-engineered dual-pane laminated glass
maximizing space utilization
When meeting the requirements of International Building Codes, Cubicall's patent-pending bifold door reduces the minimum encroachment requirement by more than 50%.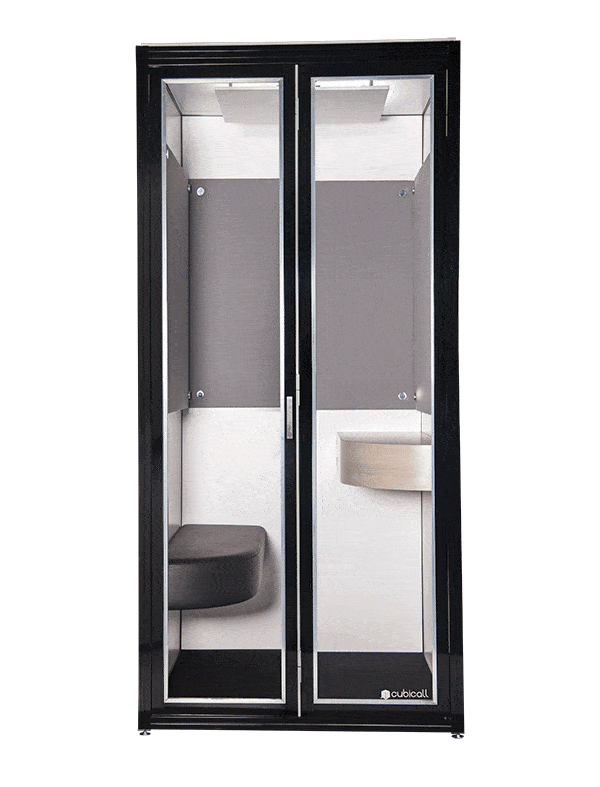 Cubicall Four Series – Exam Pod
Interior
38" x 77.75" x 84"
Exterior
41.25" x 79.5" 88.5"
Electrical
Optional hospital-grade power strip; 120v power cable
Lighting
Automatic 5000k LED lights with motion/occupancy sensor
Dimensions
15.75" x 11.8" x 20"
Input Power
110v / 3 AMPs / 350 Watts
Noise Level
62 dB max level
Operation
10-speed control panel w/ remote
The negative pressure HEPA unit features a UV-C Light. UVC has been shown to be effective at killing or inactivating microorganisms by destroying nucleic acids and disrupting their DNA. The unit includes an 8-watt Ultraviolet lamp at 253.7nm.
HEPA air filter must remove at least 99.95% (European Standard) or 99.97% (ASME) of particles 0.3 μm in diameter; with the filtration efficiency increasing for particle diameters both less than and greater than 0.3 μm. The novel Coronavirus is approximately 0.125 μm in size, meaning that a HEPA will capture it at near 100% efficiency.
A common misconception is that HEPA Filters function like a net and only capture particles of certain sizes, which is incorrect. HEPA filters are designed to target particles much smaller than 0.1 microns as these particles adhere to the fibers by diffusion at almost a 100% rate.
As added protection, the unit comes with a UVC germicidal light as the last stage of the filtration process. Test have proven that UVC light can inactivate the SARS-CoV-2 virus.
Stage 1: Washable Foam Pre-Filter
Initial stage to pre-filter any large particulates. Wash or replace every 60 days.
Stage 2: Deep-pleated moisture barrier filter
Protects H13 HEPA filter from moisture and medium-sized particulates. Replace every 12 months.
Stage 3: H13 99.95% efficient HEPA filter
Captures 99.95% of particulate smaller than 0.3 microns. Efficiency increases with use. Replace every 12 months.
Stage 4: 7lb. carbon filter
Neutralizes odors. Replace every 12 months.
Stage 5: UVC germicidal light
Germicidal UV light that sanitizes air before it is released into the room. Replace every 12 months.
Cost-effective
We've done the leg work so you don't have to. Our pre-fabricated booths that assemble within 45-90 minutes save you time and money so you don't have to obtain permits or chase contractors.
Flexible
Don't limit your workspace with permanent build outs. Our modular designs move with the changes. Whether that's on the same floor or into new spaces, our booths disassemble and reassemble.
Modular isolation solution with a larger footprint to address expanded requirements. Offering the same features as the Exam Pod, the Isolation Pod can be expanded or contracted in 2 foot increments.
Learn More