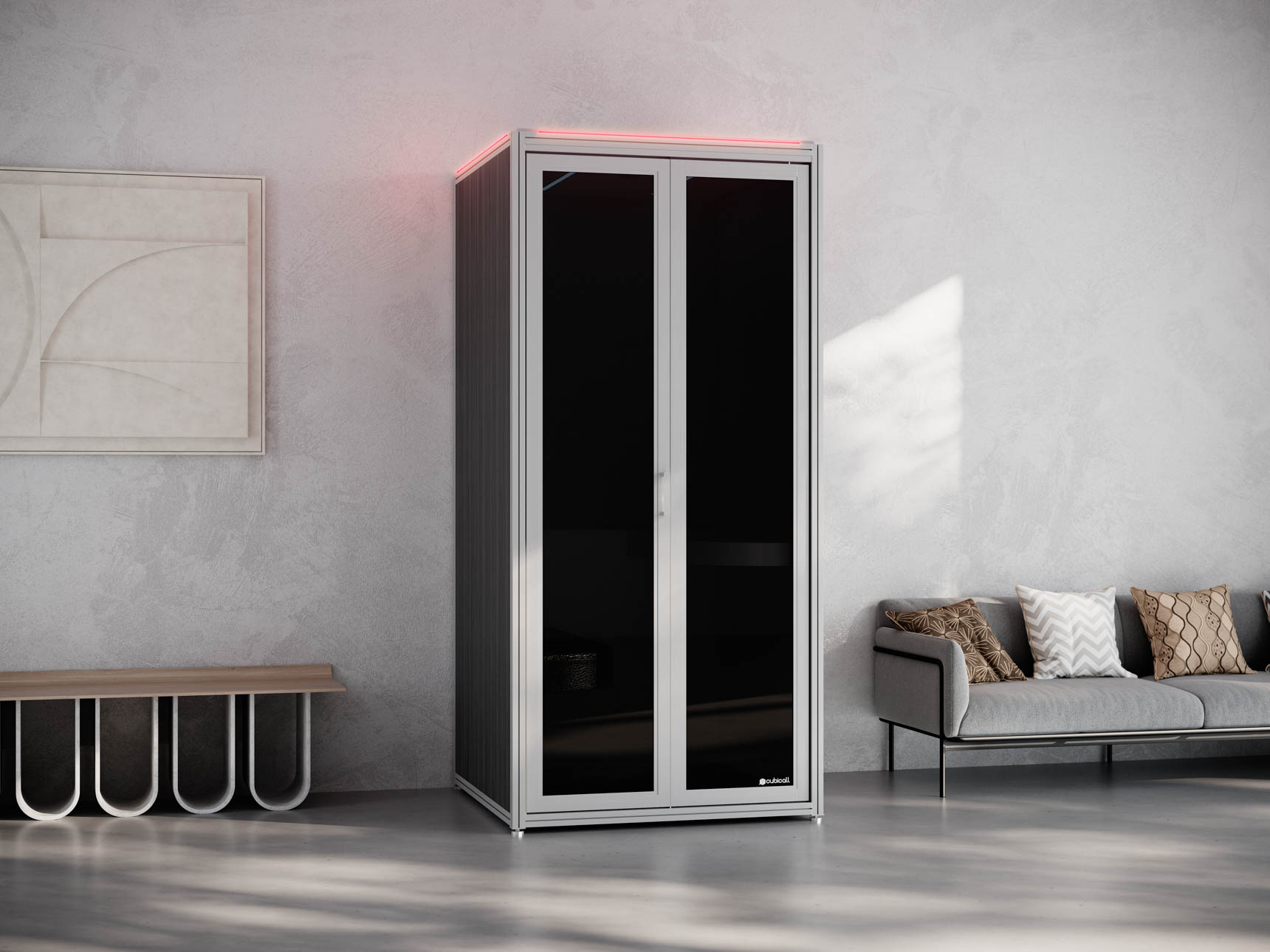 Cubicall Two Series UV phone booths provide hassle-free disinfection after each use. Using the latest UV technology and military-grade sensors, the automated process inactivates pathogens* and viruses*, including SARS-CoV-2, the virus that causes Covid-19.
Configure
Buy As Shown
Acoustically Sound
Keep conversations private and escape from the noise.
Easy Installation
Booths ship flat, easily assemble with a few tools, and move with the changes.
UV Disinfection
Automated bacteria and virus* disinfection after each use.
Made in the USA
Designed and manufactured with quality and sustainability in mind.
After each phone booth use, a military-grade PIR vacancy sensor scans for booth vacancy. If occupancy is detected, the UV cycle will not initiate. If the booth is vacant, a proprietary pulsed-Xenon UV lamp located in the phone booth ceiling will enter a 10-minute disinfecting cycle (flashing every ~6 seconds). The lamp utilizes the full spectrum of UV light, destroying the DNA, RNA, and cell walls of pathogens with a 99.99% effective rate. After the cycle is completed, it will not run again until the door opens and closes and no motion is detected within the booth.
The cycle can only initiate while the phone booth door is closed and the phone booth is vacant. While the disinfection cycle is in progress, if the bifold door is opened, the UV cycle will immediately cease and will not run again until the door is closed and vacancy within the booth is detected.
FAQ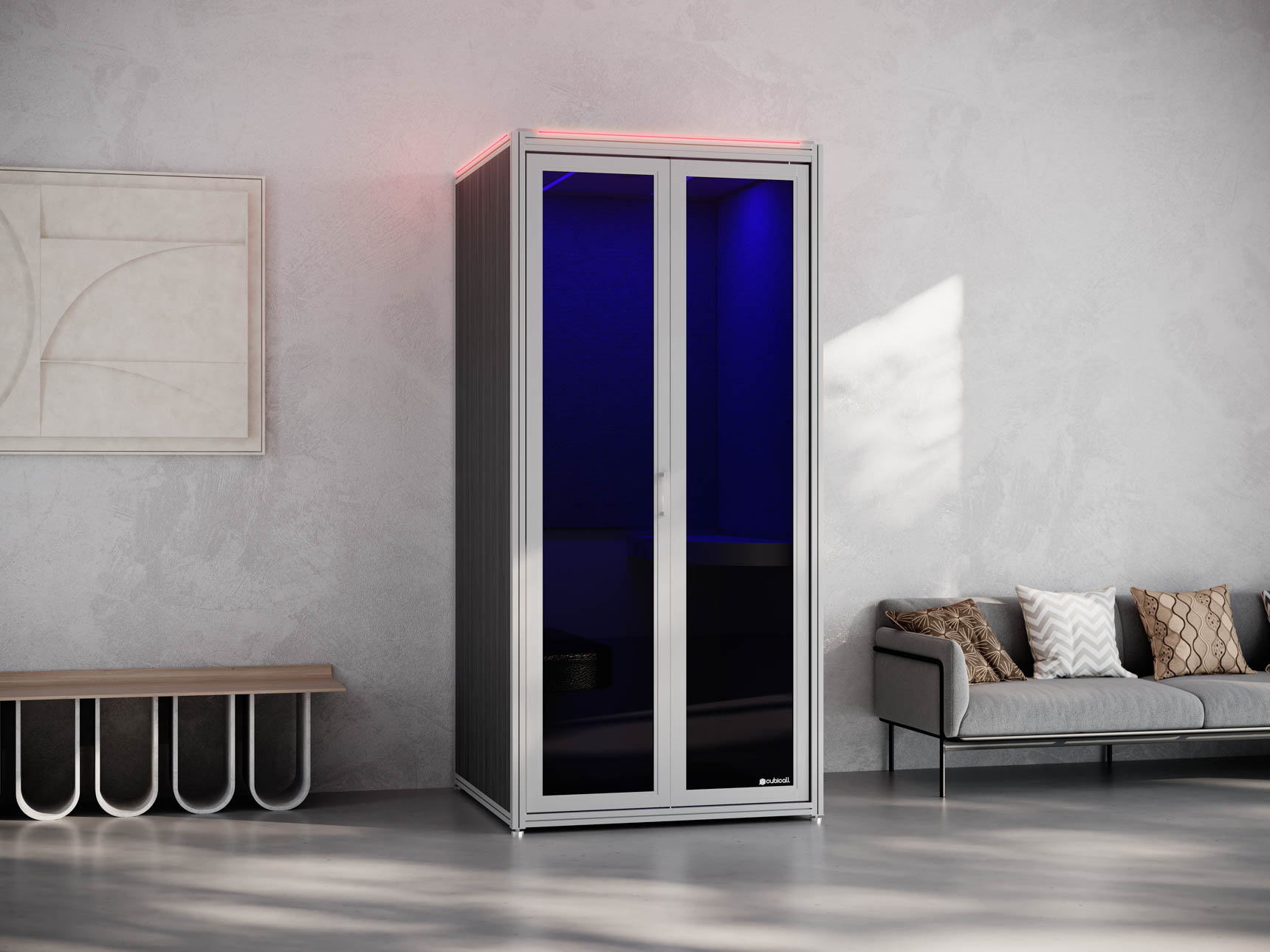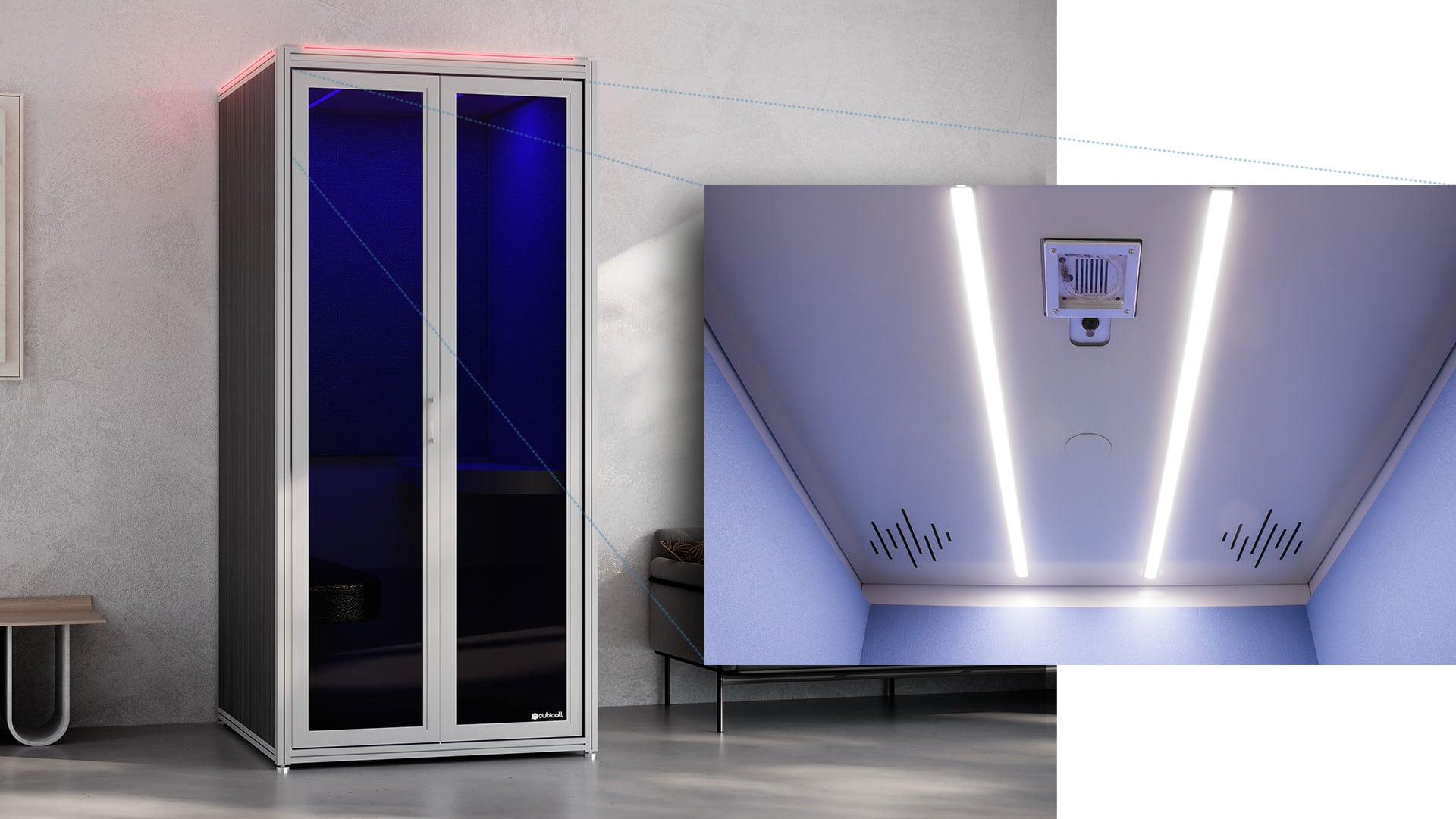 Automatic red exterior lights indicate when the booth is in use. After use, the red LED lights will remain on for 15 minutes to ensure the UV 10-minute disinfection cycle is completed.
Two layers of 5% LVT film offers extra UV protection and dulls the visible flashing light during the disinfection cycle. Occupants within the booth are still able to see through the glass.
Automatic LED phone booth lights. The lights will shut off when no motion is detected for 15 minutes.
Powerful, full-spectrum UV bulb used for inactivation of bacteria and viruses.
Military-grade passive infrared (PIR) sensor used to detect occupancy/vacancy within the booth. If movement is detected, the UV light cycle will not initiate.
LED status indicator reveals the operational status of the fixture. – Flashing Purple: Unit is warming up. – Solid Green: Unit has completed disinfection cycle. – Solid Red: Unit detects occupancy within the booth. – Flashing Red: Safety sensor has detected an issue. Open and close the door to reset.
Sprinkler-ready should requirements ever change.
Airflow vents that replaces air within the booth every 60 seconds.
The EPA estimates that poor workplace hygiene results in tens of billions of dollars in lost productivity and medical care every year.
Improve your workplace wellness, productivity and satisfaction with Cubicall's automated disinfection solutions.
Ultraviolet germicidal irradiation
For more than 140 years, sunlight has been utilized for its anti-bacterial properties. It was determined the shorter wavelength of the solar spectrum, ultraviolet light, was most effective at neutralizing bacteria, viruses and fungi.
DNA & RNA is the genetic material that makes up all living organisms, controlling their growth, development, functioning and reproduction. UV light produces electromagnetic energy that can destroy the ability of microorganisms to reproduce by causing photo-chemical reactions in the nucleic acids (DNA & RNA). The ultraviolet energy triggers the formation of specific thymine or cytosine dimers in DNA and uracil dimers in RNA, which causes inactivation of microbes by causing mutations and/or cell death and failure to reproduce.
The UV lamp in Cubicall phone booths utilizes the full spectrum of ultraviolet light, including UV-C, the germicidal UV that inactivates bacteria, viruses, mold and fungus; UV-B and UV-A, both causing oxidation of proteins and lipids that result in cell death.
The pulsed-Xenon UV light unit effectively inactivates up to 99.99% live SARS-CoV-2 — the virus that causes
COVID-19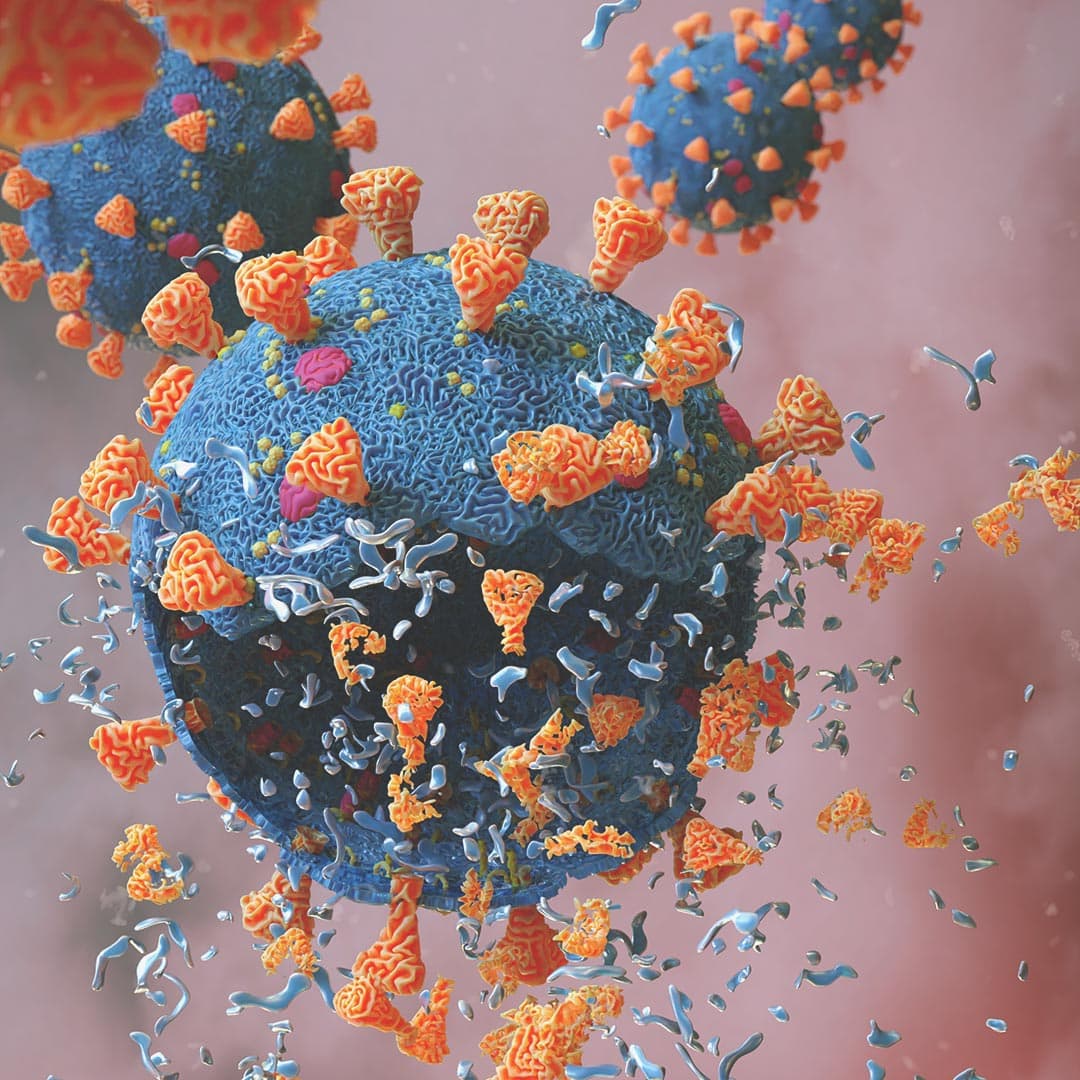 The PURO™ UV Disinfection Lighting fixture, powered by Violet Defense® technology, used in Cubicall phone booths has been proven to rapidly kill up to 99.9% of Norovirus, C. diff, E. coli, Salmonella, MRSA, and C. auris. Per the EPA emerging pathogen guidelines, the light has efficacy against Class 2 and 3 viruses, including coronaviruses, SARS, Influenza and Ebola.
In November of 2020, independent studies conclusively confirmed PURO UV Disinfection Lighting fixtures inactivates up to 99.99% of live SARS-CoV-2, the virus that causes COVID-19.
Cubicall has partnered with PURO™ Lighting, a leader in UV disinfection technology. Utilizing exclusive patents and technology by Violet Defense, PURO Lighting products offer breakthrough UV disinfection solutions. The PURO Lighting unit utilized within Cubicall ceilings uses a powerful, borad-spectrum light, including germicidal UV-C, UV-B, and bactericidal UV-A to optimize disinfection on both surfaces and airborne particles.
PURO Lighting fixtures kill up to 99.9% of bacteria and viruses and can significantly reduce the growth of fungi, such as yeasts and molds, when used at the recommended spacing and runtimes.
PURO Lighting is an American company based in Colorado.
Certifications & Qualifications
Safety: TUV Certified, tested to UL 61010-1:2012
FCC: Compliant with Part 15 Class A
RoHS: Compliant
FDA: Materials are cleared for use in food and medical areas
EPA: Registered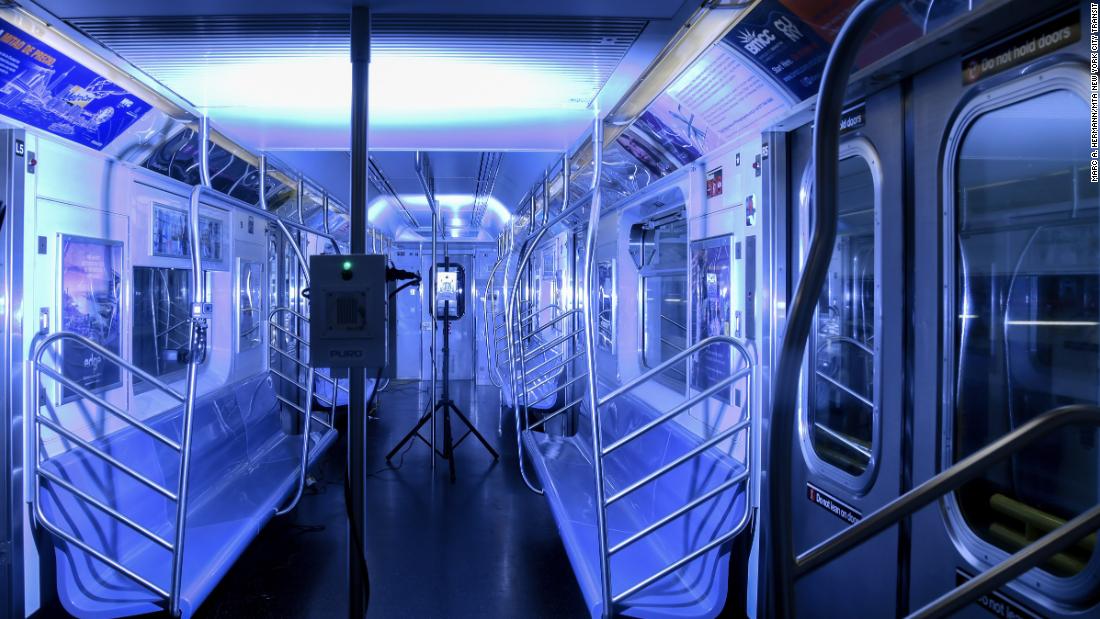 PURO Lighting used in NYC Subway
The Two Series UV phone booth includes built-in safety features to ensure protection of anyone occupying the booth or within the vicinity.
Limited Exposure Risk
Due to the nature of the UV programming, over a 10-minute cycle time for the fixture, the actual exposure to UV (if there were no other safety systems in place) would be no more than one second of exposure.
Redundant Safety Systems
Each UV fixture has a built-in passive infrared (PIR) sensor used to detect motion in a space. The sensor is programmed to detect individuals walking into the deployment space. The unit will not begin operation of the disinfection cycle until it has successfully detected the space is free of motion/persons.
Safe Stop
If the motion sensor or other components experience technical issues, the unit will safe stop by cycling the unit off. The unit will flash red indicating that one should contact the manufacturer for technical support. The unit will not resume operation until the issue detected has been resolved.
Bifold Door Stop
The UV disinfection cycle can only run while the bifold door is closed. If the door is opened during a disinfection cycle, the UV fixture will immediately shut off.
Frequency of Flashes
The fixtures will flash every 6 seconds during operation. In collaboration with the Epilepsy Foundation, when designing the product the manufacturer ensured that the frequency of flashes will not cause any issues for someone with photosensitive epilepsy.
Cubicall Two Series UV – Phone Booth
Interior
38" x 38" x 87.15"
Exterior
41.15" x 41.15" 87.15"
Electrical
USB-A and USB-C ports, three 120v outlets, Ethernet/cable feed; 120v power cable
Lighting
Automatic 5000k LED lights with motion/occupancy sensor
Airflow
Dual fan air circulation moving up to 108 cfm
Custom
Fully customizable; walls, acoustic panels, seat, desk, carpet/floor
UV Light
Full spectrum PURO™ UV Disinfection Lighting fixture
An office essential. Perfect for private communication, heads-down work, virtual meetings or personal breaks from distractions.
Learn More
Buy
Configure
Productive collaboration and 1-on-1's. Give teams space while making the most of your floor plan. Add-on 180º camera for team video conferences.
Learn More
Buy
Configure
The office within an office. Perfect for temporary private offices or extended focus needs to meet those can't-miss deadlines.
Learn More
Buy
Configure
A social nook that reduces noise and distractions for casual meetings and breaks. Swap out the benches and desk with bean bag chairs or couches for even more R&R.
Learn More
Buy
Configure

The perfect combo for a safe & productive office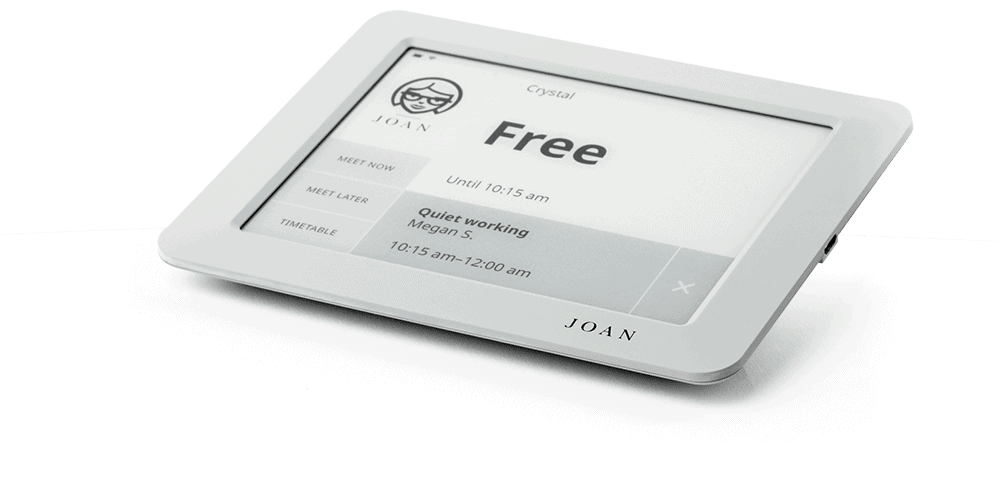 let your workforce book rooms remotely while monitoring who used a room and when
If phone booths and meeting rooms have become the most sought after asset in your workplace, you're not alone. A room management system ensures your team can access a room when they need it most while preventing "campers."  But it's also a great tool to conduct contact tracing should the need ever arise.
Interactive, real-time, and sustainable, Joan will help you improve the efficiency of your workspace. Joan prevents double bookings, confusion, and meeting interruptions while allowing you to monitor who used a booth and when.
Save on every Joan Device when you pair them with Cubicall Phone Booths
Learn More
Place Joan directly on a phone booth and book it remotely through leading calendar services or an app.
Get Joan