Foster innovation and collaboration. Keep 1-on-1 discussions private and give teams space while making the most of your floor plan. Cubicall Four Series Meeting Room is a creative space for new ideas and growth.
Configure
Buy As Shown
Acoustically Sound
Keep conversations private and escape from the noise.
Easy Installation
Booths ship flat, easily assemble with a few tools, and move with the changes.
Customization
Choose colors and finishes to match your branding or office design.
Made in the USA
Designed and manufactured with quality and sustainability in mind.
Sprinkler-ready, should requirements ever change
Acoustically sound experience to keep conversations private and escape from the noise
Full customization options to match your branding or office environment
Built-in essentials for modern communications, including USB-A & USB-C ports, 120-volt outlet and Ethernet/cable feed
Bench seats & desk included
Industry-only, patent-pending bifold door with acoustically-engineered dual-pane laminated glass
Quad fan air circulation that replaces air within the meeting room every minute.
maximizing space utilization
When meeting the requirements of International Building Codes, Cubicall's patent-pending bifold door reduces the minimum encroachment requirement by more than 50%.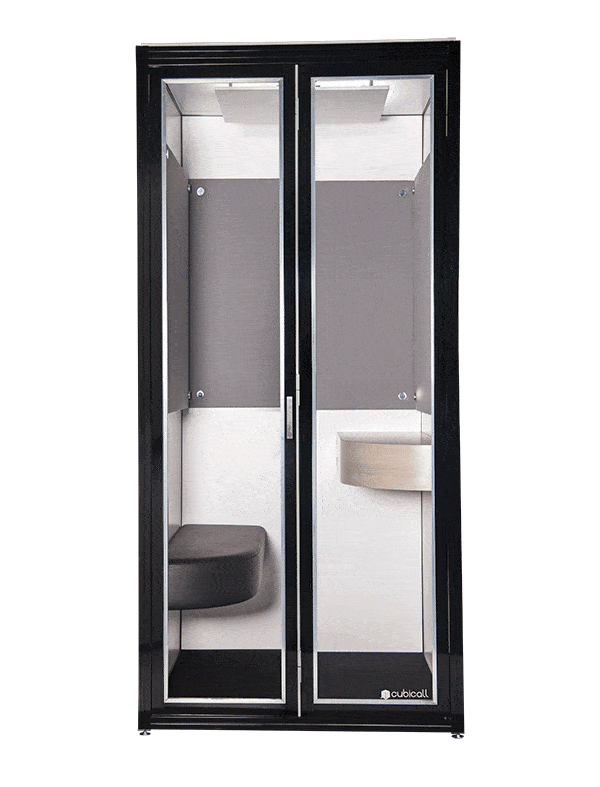 76% of the time, conference rooms are occupied by four or fewer*. Cubicall's efficient design makes the most of your floor plan.
Cubicall Four Series – Meeting Room
Interior
38" x 77.75" x 84"
Exterior
41.25" x 79.5" 88.5"
Desk
37.45" x 28.35" x 3"; 34" from floor
Seats
36.25" x 14.375" x 5.65"; 20.75" from floor
Electrical
USB-A and USB-C ports, three 120v outlets, Ethernet/cable feed; 120v power cable
Lighting
Automatic 5000k LED lights with motion/occupancy sensor
Airflow
Quad fan air circulation replacing air every minute
Custom
Fully customizable; walls, acoustic panels, seat, desk, carpet/floor
Cost-effective
We've done the leg work so you don't have to. Our pre-fabricated booths that assemble within 45-90 minutes save you time and money so you don't have to obtain permits or chase contractors.
Flexible
Don't limit your workspace with permanent build outs. Our modular designs move with the changes. Whether that's on the same floor or into new spaces, our booths disassemble and reassemble.
never miss a face or voice
With the Meeting Owl from Owl Labs, ensure all occupants within a Cubicall Meeting Room are seen & heard on conference calls.
The all-in-one, 360° conference smart camera, microphone and speaker fits perfectly within the Cubicall Four Series— allowing for plenty of open desk space.
Say goodbye to screeching feedback while keeping your teams naturally engaged.
Learn More
The office within an office. Perfect for temporary private offices or extended focus needs to meet those can't-miss deadlines.
Learn More
Buy
Configure
A social nook that reduces noise and distractions for casual meetings and breaks. Swap out the benches and desk with bean bag chairs or couches for even more R&R.
Learn More
Buy
Configure
An office essential. Perfect for private communication, heads-down work, virtual meetings or personal breaks from distractions.
Learn More
Buy
Configure
Provide hassle-free disinfection after each use. Using the latest UV technology and military-grade sensors, the automated process inactivates bacteria, pathogens and viruses.
Learn More
Buy
Configure
The perfect combo for a safe & productive office
let your workforce book rooms remotely while monitoring who used a room and when
If phone booths and meeting rooms have become the most sought after asset in your workplace, you're not alone. A room management system ensures your team can access a room when they need it most while preventing "campers."  But it's also a great tool to conduct contact tracing should the need ever arise.
Interactive, real-time, and sustainable, Joan will help you improve the efficiency of your workspace. Joan prevents double bookings, confusion, and meeting interruptions while allowing you to monitor who used a booth and when.
Save on every Joan Device when you pair them with Cubicall Phone Booths
Learn More
Place Joan directly on a phone booth and book it remotely through leading calendar services or an app.
Get Joan