Featuring artwork from van Gogh, Monet & Munch, courtesy of Getty's Open Content Program.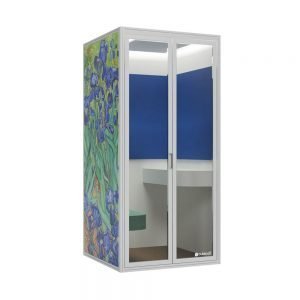 Los Angeles, Calif. — Cubicall introduces quiet communication phone booths – the efficient solution for the shortcomings of open office space design – adorned with classic works of art. The debut art collection features Irises by Vincent van Gogh, Starry Night by Edvard Munch, and Sunrise by Claude Monet. The digital artwork is printed through Getty's Open Content Program.
"Artwork is a great way to inspire employees & enhance office design," says Anthony Gudenkauf, co-founder of Cubicall, "Since Cubicall is able to print custom graphics, it was a no-brainer to combine art & culture with utility in the modern office."
Cubicall Modern Phone Booths are fully customizable. The exterior and interior walls can be fitted with almost any color, finish or custom printed graphics. The interior acoustic panels, vinyl seat, table and carpet are also available in a variety of colors. Cubicall's art collection features a matching interior color scheme that compliments the artwork printed on the exterior of the booth.
Research estimates that open-office design represents about 70% of all offices in the U.S. While the open-design plan has its proven benefits, it also may contribute to decreased office productivity and lower office morale. Institutions such as Harvard Business Review, Fortune, and the Wall Street Journal have all expressed the need to include private spaces, like phone booths, within the open-office plan.
"Since the beginning we've always had the vision for using artwork on our booths." Gudenkauf further explains, "we were thrilled to learn about Getty's Open Content Program. But, it's just the beginning for us. We want to work with local and modern artists, and also let our clients design, draw & paint their own booths."
About Cubicall
Cubicall produces efficient and customizable privacy solutions. Cubicall phone booths offer visual, acoustical, territorial and informational privacy through modern design. The phone booths ship flat, are easily assembled/disassembled, and are fully customizable. The bi-fold door allows Cubicall to fit into areas where every inch of space is critical and helps more businesses comply with International Building Codes. The company was founded by two brothers who came up with the idea when working in an open office space. The phone booths have been featured on Fox Business Channel, The New York Times, Interior Design, Fast Company, Inc. and was called the "an efficient privacy solution to open-plan distractions" by Forbes. Cubicall is designed, engineered and manufactured in the USA and is based in Los Angeles, California.