New Superman-themed phone booths mark the 80th anniversary of the Iconic Super Hero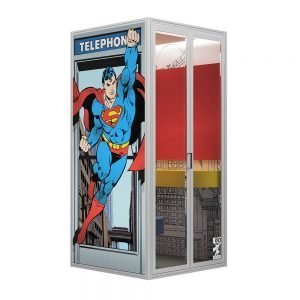 LOS ANGELES, Calif. – This looks like a job for Superman. Cubicall the maker of modern office phone booths, in partnership with Warner Bros. Consumer Products on behalf of DC Entertainment, will release Superman-inspired booths to mark the 80th anniversary of one of the most popular Super Heroes in the world. Classic Superman artwork will adorn Cubicall phone booths, which address the shortcomings of modern offices by providing a privacy solution to help increase employee productivity and morale.
"No other Super Hero nor property lends itself better to offices and phone booths than Superman," explains Anthony Pucci, Cubicall CEO and Co-Founder. "We're thrilled to offer our clients and Superman fans this quintessential pairing for the first time ever."
Open-office floor plans represent up to 80% of all offices around the world. While it has its proven benefits, some studies have shown that employees are less productive in an open work environment.
Cubicall brings productivity back to modern offices through phone booths that deliver visual and acoustical privacy, offering employees a space to focus, to hold private communications, or to break from the distractions of open offices.
Cubicall's simple, yet, efficient modular design aligns with today's modern design trends to compliment any office layout. Cubicall phone booths ship flat, are easily assembled and are Made in the USA. Learn more about the Superman Limited Edition Cubicall phone booths at cubicallbooth.com/superman.
About Warner Bros. Consumer Products
Warner Bros. Consumer Products (WBCP), a Warner Bros. Entertainment Company, extends the Studio's powerful portfolio of entertainment brands and franchises into the lives of fans around the world. WBCP partners with best-in-class licensees globally on an award-winning range of toys, fashion, home décor, and publishing inspired by franchises and properties such as DC, the Wizarding World, Looney Tunes and Hanna-Barbera. The division's successful global themed entertainment business includes groundbreaking experiences such as The Wizarding World of Harry Potter and Warner Bros. World Abu Dhabi (opening 2018). With innovative global licensing and merchandising programs, retail initiatives, promotional partnerships and themed experiences, WBCP is one of the leading licensing and retail merchandising organizations in the world.
About Cubicall
Cubicall produces efficient and customizable phone booths. Cubicall phone booths offer visual and acoustic privacy for occupants through modern design. The phone booths ship flat, are easily assembled, and are fully customizable. The company was founded in 2016 by two colleagues searching for phone booths that could bring privacy back to their open-office. Having found no viable solutions – the company was born out of necessity. After popular demand from client and friends, Cubicall began taking orders for phone booths in August of 2017 and word spread quickly. Cubicall is designed, engineered and manufactured in the USA and is based out of Los Angeles, California.
About DC Entertainment
DC Entertainment, home to iconic brands DC (Superman, Batman, Green Lantern, Wonder Woman, The Flash, etc.), DC Vertigo (Sandman, Fables, etc.) and MAD, is the creative division charged with strategically integrating across Warner Bros. and Time Warner. DC Entertainment works in concert with many key Warner Bros. divisions to unleash its stories and characters across all media, including but not limited to film, television, consumer products, home entertainment, and interactive games. Publishing thousands of comic books, graphic novels and magazines each year, DC Entertainment is one of the largest English-language publishers of comics in the world.