Description

The simple solution for a smarter office.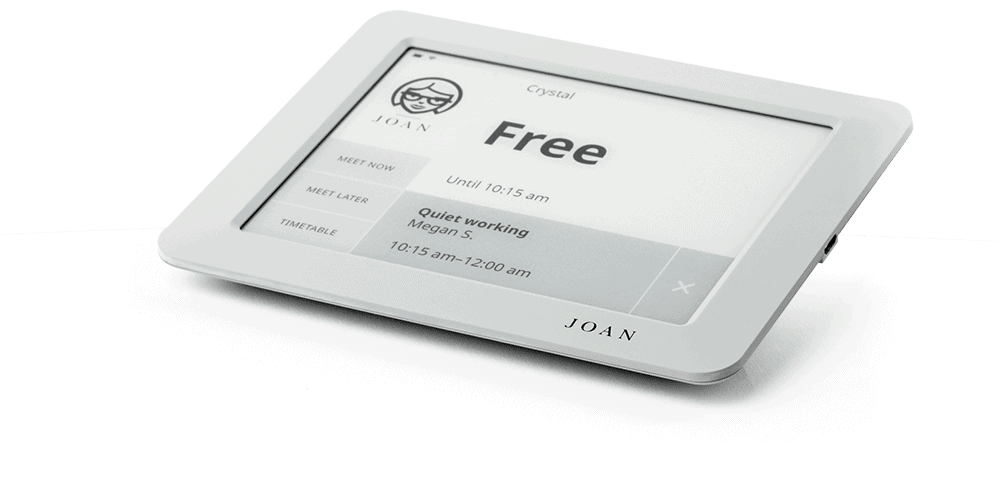 Simple. Flexible. Frictionless.
Joan helps you reserve and manage your phone booths and meeting rooms. It prevents double bookings, confusion, and meeting interruptions. Place Joan next to a room to book it remotely or on-the-spot and receive weekly reports on your room usage.
Book Cubicall phone booths with ease.
Microsoft Exchange (Outlook)
Seamlessly connects to WiFi.
Integrates with the leading calendar services.
Advanced E Ink® full capacitive touch screen interface with high visibility and contrast in any light.
99% more power efficient than LCD and a battery life measured in months!
What does Joan do for you?
Have campers? Are employees frustrated when booths aren't available? Eliminate time and space wasters through a room management system. Interactive, real-time, and sustainable, Joan will help you improve three essential workplace transformation areas:
Scheduling & Booking
Never wonder if a Cubicall is empty. Joan displays a booth's status, meeting information, as well as subsequent meetings taking place in the same booth.
Office Experience
Joan integrates into your office. Showcase your branding, change the language displayed, or replace Joan's standard functionalities with custom information.
Office Efficiency
Take control of your office and stop squandering resources. Joan detects and eliminates unattended meetings, freeing up space for others.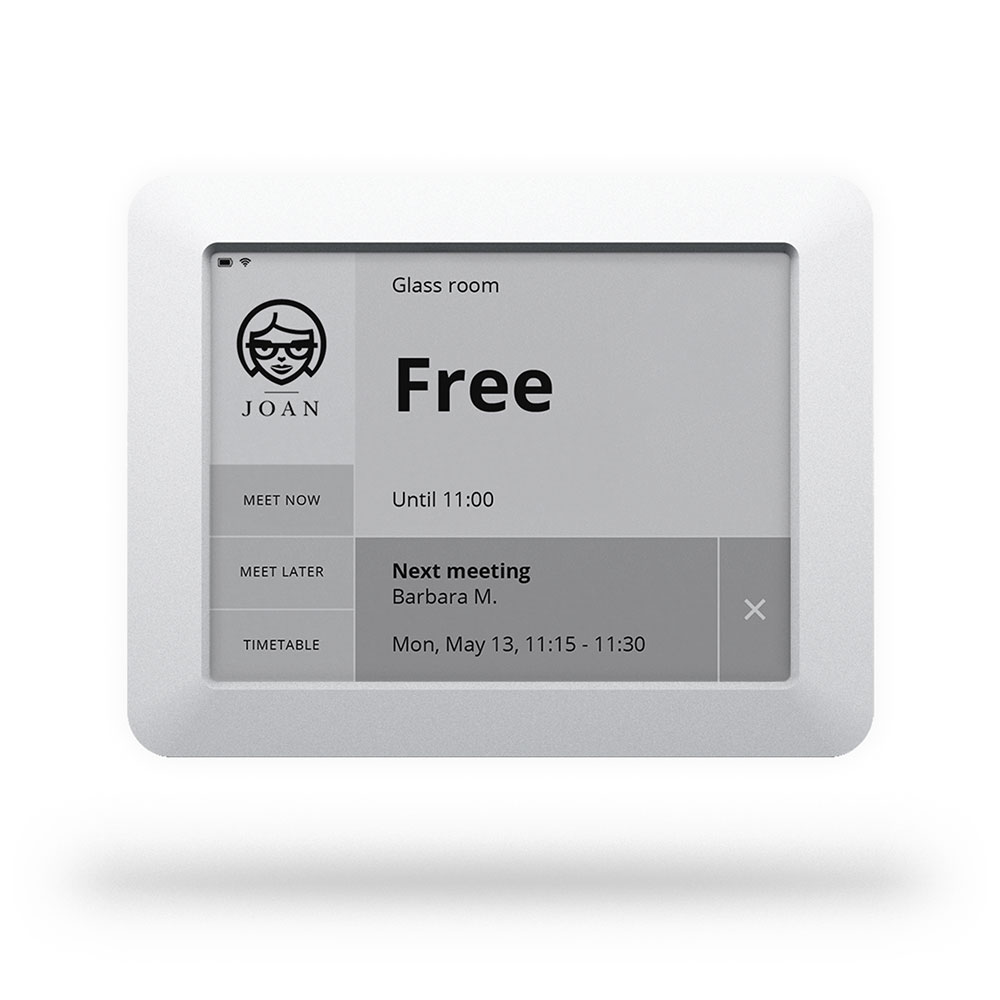 See if the room is booked or free and what time the next meeting begins.
Book your meeting on the spot or reserve the room for later. Check the timetable for upcoming meetings.
Upload your company logo.
See high-level details of the upcoming meeting.
Have more than one Cubicall or room? Name each room and device to avoid confusion.
Joan Room Management Plans*
Free
With Every Joan Device
$

0.00

Per Month
Calendar integrations
Real-time booking
Custom logo and language
Slack integration
Standard
$

11.00

Per Month

All of Basic, plus:
Custom buttons
No-show meetings cancellations
Room usage reports
Cisco Webex Team integration
Hot desking
Premium
$

21.00

Per Month

All of Basic and Standard, plus:
Custom content
Automatic guest welcoming emails
Automatic check-in and voice control
individual room customization options
Free 30-day Premium plan trial
Try all of Joan's features first to find the right plan for you later. When you connect your first Joan device you'll receive free access to Joan's Premium subscription plan for 30 days. After that, Joan will help you find the plan that best suits all of your office managing needs. But, the Basic plan is always free!
*Joan Room Management Subscription Plans are purchased directly through Joan. Once you order your devices, you will set up a Joan account to update your preferences.
Joan is a product of Visionect
Visionect, the developer of Joan, the award-winning room scheduling solution, is the world leader in deploying electronic paper in environments impossible before. Visionect technology is unparalleled in versatility, ultra-low power consumption, ease of installation and simplicity of use.
For more information about Joan visit our Knowledge Base at support.getjoan.com or contact Joan at support@getjoan.com.